Breville BOV800XL Toaster Oven Review
Toaster ovens are, unfortunately, often overlooked by many people. The words "toaster oven" probably bring up visions of the old style of toaster oven, with its burnt toast and lack of settings. That couldn't be further from the truth these days, however, especially when it comes to the Breville BOV800XL.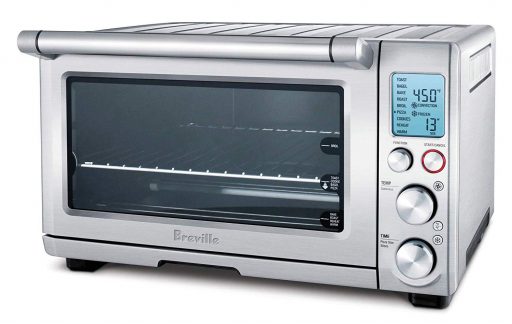 Versatility
One of the great things about the Breville BOV800XL model is its total versatility. It can make anything from toast to pizza. It can even handle making brownies or cookies. So, it really can take over a lot of the functions that most people use a larger oven for. It even comes with a recipe book, which features 30 easy to follow recipes.
The versatility of the Breville BOV800XL also extends to the settings. There are 9 pre-set settings. However, you also have the ability to adjust the settings to your liking. In fact, once you choose a setting you can simply have the toaster oven remember it for next time. Those "smart toaster oven" features make the BOV800XL one of the most state of the art toaster ovens around.
Handy Features
Some handy features of the Breville BOV800XL include:
Pizza Pan
Baking Pan
Broiling Pan
Recipe Book
Simple Users Manual
Magnetic Door
The magnetic door of the Breville BOV800XL is actually a very interesting feature, since it helps to reduce the chances of accidental burns. Also, it seals extremely well. So, it helps to make the BOV800XL even more energy efficient.
Cost
The cost of the Breville BOV800XL will vary, depending on where you buy it. The best price we have seen online is over at Amazon.com for $249.95 which comes with free shipping. It's also worth noting that a brand new BOV800XL comes with a warranty, which lasts for one year.
The Good And The Bad
According to Amazon, after 489 reviews, the BOV800XL has a 4.5 star over all rating. Many people are saying wonderful things about its versatility, energy efficiency and fabulous functions. Some comments include:
"The Breville Toaster Oven is so vastly superior in every way."
"Like a full-size convection range in a little package – A+++"
"Uses less electricity than a full-size oven"
Unfortunately, there are some problems with the BOV800XL. One of the big complaints is that it only has a 3′ cord. However, whether or not that is a problem for you will depend a lot on the layout of your kitchen. Keep in mind that longer cords can often be cumbersome and just in the way.
Another issue that a few people have reported is that Breville's customer service department is not the best by any stretch. So, although the BOV800XL is a great toaster oven, any problems that may arise could be difficult to correct.
The Bottom Line
The bottom line is that the Breville BOV800XL is a great toaster oven and, these days, most companies aren't known for their customer service. So, you could have that issue with any item that you buy. It's just a risk that consumers take.
The big thing that you really have to consider about the BOV800XL is the cost. It's a lot of money upfront, but think about the long term results. If it's going to save you time, money and energy every day and allow you to do so many different things, it's going to pay for itself in no time at all. Check it out today over at Amazon.com.